The Avenue Scholars program gives high school students the chance to learn about a variety of high-demand career fields, the opportunity to gain experience in these fields, and the ability to develop the necessary education and skills for the career they choose.
The program is designed to enable students to establish a solid foundation and continue to build on it – through high school and beyond. So, young people are ready for successful careers with area businesses that want to keep homegrown talent close to home in the Omaha metro area.
SOPHOMORES – Get Started with Your Application
Avenue Scholars partners with area high schools to get sophomore students enrolled in the program in time for their junior and senior years and on the path to a high-demand career or technical field, including: health services, information technology (IT), business, automotive, trades, manufacturing, and education. Avenue Scholars students are eligible for a scholarship to Metropolitan Community College, covering tuition, books and fees, as well as any tools and uniforms. Students can apply for the program through their high school guidance counselor or by completing this form:
Avenue Scholars supports and guides students in creating a plan for career success that's based on their individual talents, interests, and goals. It begins during the junior year of high school and continues all the way through career entry.
Students take their initial Avenue Scholars class, explore their selected industry area through Career Awareness programming, and work one-on-one with their High School Career Coach to develop a personalized career plan. They also participate in financial and personal well-being activities and apply for an internship or a part-time job.
Seniors take the Avenue Scholars class and continue progress in their career plan through one-on-one coaching.  Students also participate in Senior Year Experience programming, which includes either coursework through Metropolitan Community College (MCC) or an internship/part-time work in their chosen career pathway.  Students gain work experience by participating in an internship or a part-time job.
Postsecondary Education/Training & Career Preparation
All Avenue Scholars students who complete the Avenue Scholars high school program have access to a scholarship to continue their education/training at Metropolitan Community College, made possible through the generous support of the Suzanne & Walter Scott Foundation and MCC.  A student's progress on their career plan will determine which postsecondary education or training options they may pursue.
After their education and training is complete, students still have the support of Avenue Scholars to help them find and keep a job, enjoy success on the job, and make a good salary that makes living on their own a reality.
Career Coaches make a difference
One of the great things about Avenue Scholars is the fact that students have the support of a full-time Career Coach to help with personal and professional development that leads to success. From junior year of high school and into their full-time careers, they can count on their Avenue Scholar Career Coach for help, encouragement and support to navigate challenges and opportunities.
Support that Ensures Success
As students move from part-time employment during their junior to senior years, to career preparation and beyond, they have the full range of tools, training, guidance and development to be successful. From counseling, crisis intervention and problem-solving, to community resources, child welfare and juvenile justice systems, Avenue Scholars is there to help students on a highly individualized level. Special groups also bring students together, with:
A support group for female students that addresses topics like social issues, women's health and wellness, relationships, substance abuse and self-esteem to empower them to meet social, academic and career goals.
A group for male students and staff, men meet in a dinner table type atmosphere to discuss issues like healthy relationships, health and wellness, drug and alcohol awareness and distraction control.
This group helps students learn about healthy coping skills and problem solving, as well as connecting students for peer support.
What You Can Expect from Avenue Scholars
For Avenue Scholars, it's more than what happens in the classroom. It's also how well they're able to achieve the goals they set for themselves. Armed with education and training, work experience and work-ready skills, and a demonstrated commitment to attendance, they're able to overcome barriers to employment with financial success, along with physical and mental well-being.
Student Enrollment and Demographics
Slide
AVENUE SCHOLARS HIGH SCHOOL GRADUATION RATE
Slide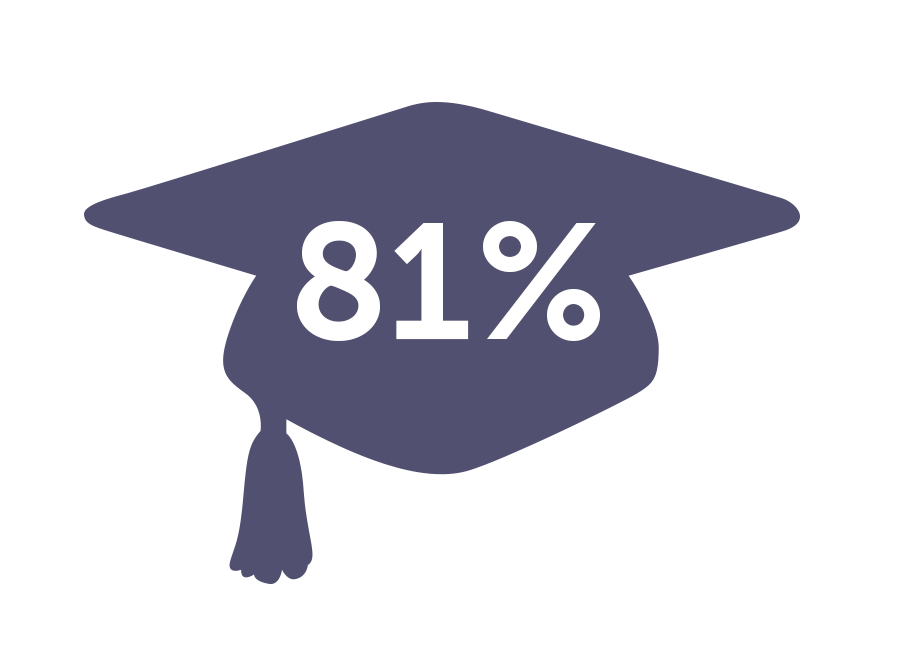 POSTSECONDARY CONTINUATION RATE
Slide
METRO AREA BUSINESSES EMPLOYING AVENUE SCHOLARS STUDENTS